Borrowing and visitor numbers double at the Library of Birmingham in first year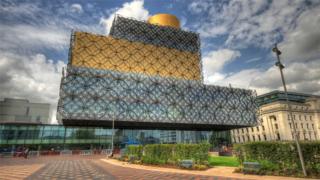 Borrowing and visitor numbers at the Library of Birmingham are double those of its predecessor in its first year, managers said.
The £189m building, which has a million books, was built to replace the Central Library, which is due to be demolished.
People have borrowed about 316,000 books, DVDs and CDs since the new library opened on 3 September 2013.
Campaigners against council cuts said the money would have been better spent on revamping community libraries.
The number of items borrowed represented a near 100% increase since 2011-12 at the old Central Library.
More than 2.7 million people visited the library in its first year, compared to the 1.2 million who went to the Central Library in 2011-12, the last full year it was open.
At that point, the Central Library was the second-most visited library in England behind Norwich, which had 1.34 million visitors that year.
Figures released by the city council meanwhile showed membership had increased at the new library by 140% from the old Central Library, to a total of more than 250,000 people.
Library director Brian Gamble said he hoped the library could sustain the visitor numbers over the next year.
"It is unashamedly a tourist attraction," he said.
It is also a place for music and art exhibitions, a business meeting place, a social meeting place, so it's got all of those functions as well as being a place to borrow books."
---
The Library of Birmingham
Its most valuable books are copies of Shakespeare's First Folio and John James Audubon's Birds of America, worth between £6m and £7m each
It has nine floors - three of which are out of bounds to the public - and can hold 3,000 people
It has more than 200 public access computers, theatres, an exhibition gallery and music rooms
It has a brown roof garden with wild flower meadow
The Hobbit, by JRR Tolkien, was the first book to be put on the shelves
In Pictures: The Library of Birmingham
Audio slideshow: Library's cutting edge architecture
---
Nearly 600 people have used the library's resources at its Business and Intellectual Property Centre, launched in July, while more than 1,500 people used the library's free support with CV writing and searching for jobs over the same period.
Since its opening, there have been more than 400 events and 32 exhibitions at the new library, ranging from live poetry to lunchtime lectures to silent movie screenings with live piano accompaniment and star-gazing.
On average, members are booking 21,000 sessions on the new library's public computers every month and nearly 5,000 people are logging onto its free wi-fi.
But Bob Whitehead from the Community Against the Cuts group said the £189m spent on the building would have been better invested refurbishing local library services in places such Kings Norton and Northfield.
"This was basically a prestige project," he said.
"For a fraction of what they spent, they could have upgraded the old Central Library and patched up buildings and libraries across communities, so that people had suitable services on their doorstep."
A spokesman for Birmingham City Council said the project had been delivered under budget and was a "cultural icon" for the city which had proved "extremely popular".