Hundreds of West Midlands drivers with poor eyesight lose licences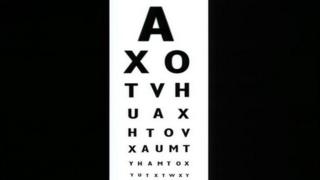 Hundreds of drivers had their licences revoked in the West Midlands because their eyesight was too poor, according to figures from the DVLA.
In 2011/12, 115 motorists lost licences as they could not read a registration plate from 20m (65ft) away.
That rose to 139 in 2012/13 and 226 in the past year.
The Royal Society for the Prevention of Accidents (RoSPA) said drivers who did not meet legal standards put others "at risk".
'Seismic' improvement
Samer Elsherbiny, a consultant at Birmingham & Midland Eye Centre, said the figures, released under a Freedom of Information Act request - should not be viewed as proof the population's vision had worsened in three years.
He said with an aging population, people were continuing to drive for longer while managing chronic conditions through medication that had improved "seismically" in the past decade.
"In my personal view, there are a multitude of factors in play including more treatable conditions and awareness among people to report conditions," he said.
---
Sharpness of vision
Sharpness of vision is measured by the so-called Snellen Test, judged by reading rows of letters which become increasingly small further down a chart, and there is minimum score for driving of 6/12.
This indicates a person can read all the letters of a certain line of the chart accurately from 6m (20ft) away.
---
The DVLA said motorists were legally obliged to ensure they were medically fit to drive, and to notify the organisation of the onset or worsening of a medical condition.
A spokesman said: "Where we are notified of a medical condition that may affect driving, we may contact the driver's doctor for further information.
"The driver may also be referred for a further medical examination, eye examination or a driving assessment as necessary. We then make an evidenced decision on whether the driver can retain their licence."
| | | | |
| --- | --- | --- | --- |
| Reasons for revocation | 2011/12 | 2012/13 | 2013/14 |
| Does not meet the minimum field for safe driving | 73 | 85 | 98 |
| Diplopia | 2 | 0 | 2 |
| Unable to read number plate at required distance | 115 | 139 | 226 |
| Does not meet visual acuity standards | 10 | 26 | 58 |
| Double vision | 0 | 0 | 1 |
| Visual field defect vocational licence holders | 6 | 9 | 6 |
| Monocular vision | 3 | 4 | 0 |
| Monocular with abnormal fields in remaining eye | 4 | 0 | 0 |
| Sight impairment | 0 | 1 | 8 |