Man arrested on M6 after hiding on lorry cab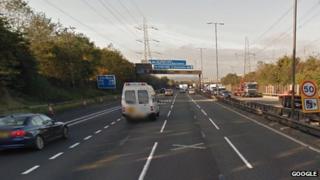 A man has been arrested in Birmingham after he was found hiding behind the air spoiler of a lorry that had travelled from Calais, police said.
The driver had pulled over on the M6 between junction 6 and 7 at 18:30 BST on Tuesday to investigate a noise on the roof of his cab.
A 20-year-old man, thought to be from Africa, was arrested on suspicion of immigration offences, a spokesman said.
West Midlands Police said the UK Border Force had started an investigation.
Supt Paul Keasey, from the Central Motorway Police Group, said: "This man risked his life and caused the driver to pull over on the busy motorway in rush hour."