Hundreds oppose homes plan for Martineau Education Centre, Harborne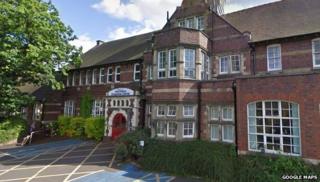 Hundreds of people are fighting plans to demolish a former Birmingham school site to make way for 121 homes.
Persimmon Homes wants to build on the derelict Martineau Education Centre off Balden Road in Harborne.
Birmingham City Council officers are advising councillors to approve the plans subject to conditions.
But more than 700 people have signed a petition against the scheme, fearing it would put pressure on already oversubscribed schools in the area.
Barry Husband, who lives close to the site, said residents were "incensed" by the proposals and would prefer to see the site used as a school.
"If the schools are already full and you build new houses, where are you going to put the children?," he said.
'Increase vitality'
Birmingham City Council officers recommend the application is deferred when it goes before the planning committee on Thursday.
But their report said the application should be approved if Persimmon makes a number of commitments, including one to lay artificial grass at Lordswood Boys and Lordswood Girls Schools and another to contribute £330,000 to education needs in the area.
A similar scheme for the site was rejected by the authority in September.
The revised plans feature more affordable houses, more public space and one less property.
A report published on behalf of Persimmon said: "The development proposal would bring back into use a site which is currently redundant and would increase the vitality in the area."
The Martineau Education Centre used to be a reform school with a sports hall, swimming pool and playing fields. More recently it was used for council offices.