Lord Winston says better IVF provision needed on NHS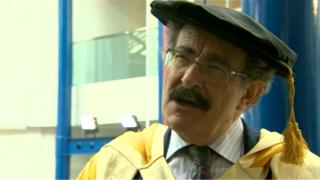 Lord Robert Winston has called for "better provision" of IVF treatment on the NHS.
He said treatment was often "underprovided" and private patients could be overcharged.
The Labour peer, who helped to pioneer IVF techniques, called for better training among doctors to recognise possible alternatives.
The Human Fertilisation and Embryology Authority, which licenses IVF clinics, declined to comment.
'Like heart surgery'
Lord Winston said he was "very embarrassed" by the fact last year 47,000 people received IVF treatment, but he estimated there were "ten times" that number who could have benefitted.
"At the moment we're overcharging, we're underproviding, and very often we're using IVF when it's not necessary," he said.
He suggested there were often "better treatments elsewhere", such as tubal microsurgery , and said there could be better diagnosis of uterine defects.
Doctors often treat the symptom of infertility rather than its cause, he said, and likened it to performing open heart surgery on a patient complaining of a chest pain without fully investigating their condition.
Speaking as he received an honorary degree from Birmingham City University, Lord Winston said more could be done to educate patients about alternatives.
"I think we need to campaign to empower women to ask the right questions about IVF and to demand they get a treatment which actually really is necessary in some cases and to recognise when it's not necessary," he said.
He said the HFEA could also do more to promote alternatives.
"It's the responsibility of the medical profession," he said.
"They are the people who are really responsible for training the next generation of doctors."
The NHS has yet to respond.