Mother cleared over daughter's absence after cancer battle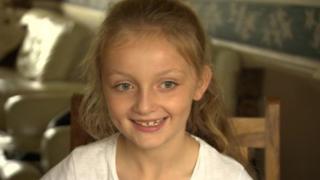 The mother of a seven-year-old girl who battled cancer has been cleared of failing to send her to school.
Libby Bennett had a kidney taken out in 2009 to remove a tumour "the size of a grapefruit", Birmingham Magistrates' Court heard.
Kerry Capper was prosecuted for failing to inform teachers at Paget Primary of the reason for seven absences between January and March this year.
She told the court her daughter had complained of stomach ache.
Libby had experienced similar pains before her original cancer diagnosis, Miss Capper said, and that she had kept her off school "to keep an eye on her".
The court was told the mother failed to attend meetings at the school about the absences and was later issued with a £60 penalty notice by Birmingham City Council, which rose to £120 after she failed to pay.
Miss Capper said she "couldn't afford" the fine.
Prosecutors said Miss Capper had failed to provide a doctor's note or evidence to back up the reasons for keeping her daughter off school.
'Can of worms'
Neil Davis, defending, said his client had a letter from a paediatric consultant at Birmingham Children's Hospital which stated that Miss Capper got "extremely anxious" whenever Libby complained of any abdominal pain.
The court was also told the original cancer surgery had left Libby with a weakened immune system, which teachers were informed about when she started school in 2011.
Elizabeth Haskins, magistrates' chairman, said the case opened "a can of worms".
"What do we mean by attending school regularly, or by authorised or unauthorised absence?" she asked.
Finding Miss Capper not guilty, Ms Haskins said that while magistrates felt Miss Capper was in breach of the school's truancy policy processes she was "not necessarily in breach of the law".
"She felt her child was not well enough and the school was informed, and, as far as we're concerned, that complies with the law," she said.
Afterwards, Miss Capper said she was "relieved", saying the case had distressed her daughter.
Her solicitor, Claire Riches, said: "I think the council could have used common sense, and asked where was the public interest in seeing this case brought to court?"
A Birmingham City Council spokesman said it accepted the ruling and was pleased to note Libby's attendance had improved.
"We hope Ms Capper and the school can now work together and we wish her and her daughter well."