Smethwick arson: 'Fortunate' escape for mother and son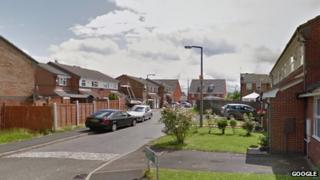 A woman and her son were "extremely fortunate" to escape after an arson attack in Smethwick, police said.
West Midlands Police said the woman saw a pipe coming through the letterbox of her house in St. Georges Drive on Thursday at 14:00 BST.
The door of the property was set on fire in the attack but the fire service stopped the blaze spreading.
Det Adam Austin said: "Whoever did this showed complete disregard for the lives of the people at the house."
Police said the 37-year-old woman saw a man walking away from the house after the attack.
She described him as being black, around 5ft 8in (1.73m) tall, of medium build and wearing a black bomber jacket over black trousers.
He either had a black bushy beard or had his face covered.
He also wore a yellow woolly hat with pink and orange stripes, police said.