Was the Lord of the Rings inspired by Black Country industry?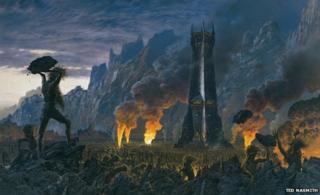 Much has been made of the influence of JRR Tolkien's Birmingham childhood on the landscapes in his books. But could the industrialised Black Country have inspired the hellish landscape of Mordor?
"It is a barren wasteland, riddled with fire and ash and dust, the very air you breathe is a poisonous fume."
Tolkien's description of the evil Lord Sauron's stronghold could easily have applied to the factories and forges of the Midlands, argues Carol Thompson.
Ms Thompson is curator of The Making of Mordor, an exhibition exploring the link between the industry of Tolkien's youth and the fictional realm "where the shadows lie".
'Poisoned region'
Some have argued Tolkien's novels were an allegory of war, although he denied they were historical.
But the author's vision of the "poisoned region", Ms Thompson said, resonates strongly with contemporary accounts of the Black Country.
"Its filthy air, ravaged landscape and fiery skies must have seemed like an ominous presence, ready to engulf his beloved home and all that he valued," she said.
The author is said to have drawn inspiration for scenes in The Hobbit and the Lord of the Rings from several city landmarks, including Perrot's Folley, Edgbaston Waterworks and Sarehole Mill, Hall Green,
He said Moseley Bog, where he would play with his brother, inspired the mystical Old Forest Frodo and his Hobbit companions travel through in the books.
But Tolkien saw the polluted, industrial landscape "just over the horizon" as a threat to the "idyllic countryside" of south Birmingham where he grew up, Ms Thompson argued.
Although Tolkien himself "was careful not to link his early childhood life" with his novels, she added, "clear parallels can be drawn".
"He associated industrial progress with the destruction of the countryside, the loss of traditional values and skills, and the corrosion of society," she said.
"Mordor" even translates as "black lands" in Sindarin, the "elf-tongue" used in Middle-Earth, Ms Thompson said.
But the exhibition, which also features works by modern artists, challenges Tolkien's "apocalyptic" views of an area "consumed by industry".
As well as the influence on Tolkien, she said, the exhibition, which runs at Wolverhampton Art Gallery until January, explores how "industrialisation shaped the people and landscape of the region", she said.