Birmingham and Doncaster chosen for high-speed rail college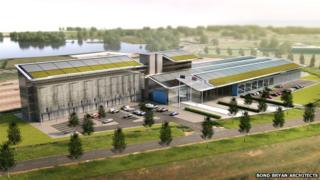 A new training college for HS2 rail engineers will be split between Doncaster and Birmingham, the government has revealed.
The National College for High Speed Rail will train staff working on the HS2 link between London, Birmingham, Manchester and Leeds.
The college, due to open in 2017, will be based at Birmingham's Science Park and Doncaster's Lakeside Campus.
Derby and Manchester were also shortlisted as possible sites.
Birmingham, previously unveiled as the construction HQ for the project, was chosen for its "location at the heart of the high-speed rail network".
Doncaster was selected for its "excellent links to established rail industry businesses", the government said.
London Crossrail boss Terry Morgan will chair the college's governing board alongside representatives from Birmingham and Doncaster.
Prime Minister David Cameron said the HS2 project would create about 2,000 apprenticeships.
"The opening of this national college will also ensure that we have a pool of locally-trained workers with the right skills to draw upon for future projects," he added.
Mayor of Doncaster Ros Jones said she hoped the college would create a "new generation of engineering and manufacturing" in the town.
"It will offer local people, including our school leavers, the chance to gain high-level engineering skills leading to well-paid jobs that are in high demand," she said.
Birmingham City Council leader Sir Albert Bore welcomed the announcement and said the fact the college's governing board would be based in the city was "hugely encouraging".
"This gives the city a real advantage and will be a boost to Birmingham's economy and that of the wider region," he said.
Shadow universities minister Liam Byrne said the college announcement was a "big step forward" for Birmingham, but HS2 remained a "mixed blessing" for the city.
He re-stated his objections to a planned high-speed maintenance depot on the former LDV factory site in Washwood Heath.
The land was previously earmarked for an industrial development that could support up to 7,000 jobs. The proposed depot would create about 650 roles, according to government plans.
"Now we need to complete the picture and press on to relocate the job-killing marshalling yard planned for Washwood Heath," he said.
The decision on the new colleges was announced at the Conservative Party Conference in Birmingham.
Earlier this week anti-HS2 campaigners erected a white elephant in protest outside the conference venue.
Chancellor George Osborne re-stated the party's determination to press ahead with the rail link, despite objections about the project's cost and fears its construction will damage countryside.