Heartlands A&E waiting time targets continue to be missed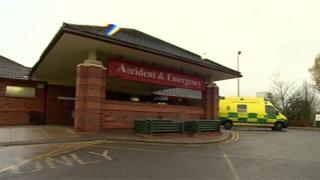 A Birmingham hospital has again failed to meet national waiting time targets, new figures show.
The Heart of England NHS Trust, which runs the Good Hope and Heartlands hospitals, was criticised by health regulator Monitor in December over accident and emergency treatment times.
Heartlands has consistently failed to meet the target of seeing 95% of patients within four hours since April.
The trust said it had invested £2.5m in additional staff and resources.
David Raven, an A&E consultant at the hospital, said his department was "completely full," and doctors were treating patients in corridors.
"We're just getting some blinds around the patient just to preserve their dignity," he said.
'Extremely worried'
Charge nurse Paul Birch, who has worked in A&E at the hospital for 12 years, said: "I feel it's very unsafe both for me, my staff and my patients."
In December, only 88% of A&E patients at Heartlands were being treated within four hours.
While the latest figures show an improvement, they are for the traditionally quieter summer period.
A&E attendances at Heartlands Hospital
April
May
June
July
August
Total attendances
10,023
10,319
10,541
10,425
9,750
Percentage seen within four hours
93.46%
91.98%
90.03%
91.69%
92.74%
A hospital spokesperson said the number of people attending A&E was "growing each year".
The trust said it was encouraging people to visit GPs, pharmacies or walk-in centres before going to A&E.
Bernadette Garrihy, from the College of Emergency Medicine, said the problems Heartlands was facing were "not unique".
"I speak to colleagues across the region who are extremely worried about their ability to deliver safe care in the accident and emergency in Birmingham and the Black Country because of our overcrowding and staff shortages," she said.
A Department of Health spokesperson said the long term aim was to reduce demand at A&E by "looking after people better in the community".
Inside Out West Midlands is reporting on A&E waiting times at Heartlands Hospital on BBC One on Monday, 6 October at 19:30 BST and nationwide for seven days thereafter on the iPlayer.