Car hits house after collision in Small Heath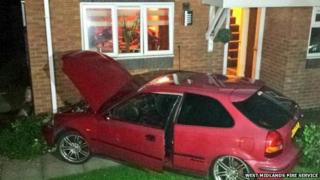 A car crashed into a house in Birmingham after colliding with another car.
The vehicle hit the semi-detached property in Barnesville Close in Small Heath on Wednesday night, emergency crews said.
West Midlands Fire Service said the car caused some structural damage to the house but the property was declared safe by a city council engineer.
No-one was injured in the collision or from the house, firefighters said.