Sandwell Council office sale to deputy leader's son questioned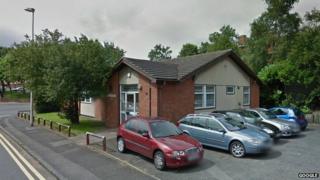 A councillor has stood down from a committee following criticism that Sandwell Council sold an office cheaply to his son.
Councillors have asked for a inquiry over whether the council got a fair price for the sale or not.
The former HM Coroner's office in Smethwick, West Midlands, was put up for sale in December 2012.
It was bought in May 2013 by the son for £80,000. In December it appeared for auction for £120,000.
It has now been sold subject to contract, although estate agents Bairstow Eves said it could not confirm the purchase price.
The council's asset land and disposal committee, chaired by Labour Councillor Mahboob Hussain, approved officers' recommendation to sell the office.
It was later bought by his son Azeem Hafeez, according to the Land Registry.
Investigation call
Although there is no suggestion Mr Hussain knew his son would bid for the property when the committee authorised the sale, or that either Mr Hussain or Mr Hafeez have behaved improperly with regard to the sale, the difference in value of the office building has led to calls for an investigation into whether the council obtained best value on the sale to Mr Hafeez.
UKIP councillor Philip Garrett, former independent socialist councillor Mick Davies and former Conservative councillor Ray Nock have said the sale should be investigated.
The council did not clarify if it took advice on the valuation before completing the sale for £80,000, despite being asked by the BBC.
Sandwell Council has now said its own audit service will conduct an inquiry and former mayor Sadie Smith, a former Liberal Democrat councillor, said the council's procedures should be "scrupulous".
On Thursday, Mr Hussain stood down as chair of the council's asset management and land disposal committee but will continue to serve as the council's deputy leader, a cabinet member and Oldbury ward councillor.
The council said his resignation was a neutral act which did not imply any wrongdoing.
Mr Hafeez could not be reached for comment.
Sandwell Council's chief executive Jan Britton said: "Councillor Hussain has stood down as chair of the asset management and land disposal committee while certain allegations that have been made are investigated by the council's audit service."
In a personal statement, Mr Hussain said he had stood down from chairing the committee to protect himself and his family from repeated, unwarranted attacks on social media.
He said: "I fully expect the audit service's investigation to clearly show I have followed all the proper rules and procedures."
The council first agreed to sell the site after a kitchen fire in October 2012 that made it unusable and the Coroner's Service moved to alternative accommodation.