Birmingham pub bombings: New song for concert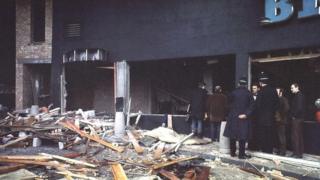 A new song, written by a former musician with Birmingham band ELO, will feature in a concert to commemorate the IRA pub bombings in the city.
Twenty-one people were killed and 182 injured when two bombs exploded at the Mulberry Bush and the Tavern in the Town in November 1974.
Six people were jailed in 1975 but their convictions were quashed in 1991.
Relatives of those who died have been involved in planning the Birmingham Town Hall concert on 20 November.
The song, 21 Today, has been written by former ELO musician Dave Scott-Morgan and writing partner Phil Hatton.
Julie Hambleton, whose sister Maxine was killed, said: "For us (the song) signifies many years of our loss and our grief. We miss Maxine today as much as we miss her from 40 years ago."
Hatton said: "I got in touch with Julie and said 'is there anything I can do to help to make sure the people of Birmingham know... what has happened to these 21 citizens'?"
In April police said there would be no new inquiry into the bombings after evidence had been re-examined.