Birmingham underpass reopens after flooding causes traffic delays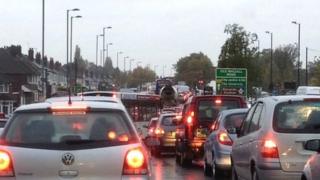 An underpass on a main route in Birmingham has reopened after flooding caused drivers to be delayed for more than four hours.
The A34 Birchfield Road underpass closed in the early hours, with water reaching heights of over 1m, highways contractor Amey said.
It said a power failure at a pumping station was "the primary cause".
Emergency work was completed in the evening and the route was opened, traffic information service INRIX said.
Delays affected inbound and outbound traffic and drivers had been urged to avoid the area while the road was shut.
An Amey spokeswoman said earlier: "Continued rainfall throughout this morning hampered efforts to remove the flood waters.
"However, our drainage teams removed enough to gain access to the pumping station early this afternoon and have identified a mains power failure as the primary cause of the flooding."
Amey worked with Western Power Distribution to get power restored.
'Been a nightmare'
The contractor said crews used portable machines to pump water away from the site and motorists were advised to avoid the area.
Network West Midlands said some bus services had been diverted and there were delays on other routes.
A Birmingham City Council spokesman said: "We cleaned out the drains during a five-hour operation covering drains and gullies on carriageways in both directions on October 5th as part of our regular schedule of work we do for such sites."
Kathryn Kimbley, 31, a lecturer at Birmingham City University near the A34, was still in her car more than five hours after leaving her Wolverhampton home.
She said: "It's immensely frustrating. It's been a nightmare. I've lost a whole morning's work and money which is much needed.
"I'm a fairly new driver.... and driving in congestion and the rush-hour traffic was new to me anyway... from two weeks ago."
'Really angry'
Barry Smith, 51, a jeweller for 35 years from Burntwood, Staffordshire, said he abandoned his journey near Perry Barr greyhound stadium, which is close to the underpass.
Mr Smith said: "It was gridlocked from... Kingstanding. I'm really angry.... People were running out of fuel."
Perry Barr Labour MP Khalid Mahmood said: "I will be making more enquiries today of the maintenance people of how much they cleaned it and what they've actually done and why it didn't work if they've cleaned it.
"Previously, it's worked when it's been cleaned.... I know that we've had significantly heavy rainfall in the last couple of days but... I want to have some answers."