Barbara Hepworth sculpture in Mander Centre return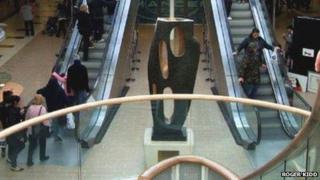 A Barbara Hepworth sculpture is to return to a West Midlands shopping centre "on loan".
Rock Form, thought to be worth more than £1m, was removed from the Mander Centre in Wolverhampton in June.
The shopping centre was put up for sale and there were fears the sculpture could be sold separately.
But The Royal Bank of Scotland (RBS), which jointly owns the venue with property firm Delancey, has said it will be reinstalled.
"RBS is pleased to confirm that the Barbara Hepworth sculpture will remain in Wolverhampton and will return to the Mander Centre on loan from RBS, once a major refurbishment of the shopping centre has been completed," the statement said.
'Delighted'
"In the meantime RBS is in discussions with Wolverhampton Art Gallery for the sculpture to be displayed there while the redevelopment of the shopping centre is carried out."
The statue has been in the Mander Centre since the precinct's opening in 1968.
The BBC understands Rock Form was offered to a previous owner of the shopping centre at cost price on the understanding it was to remain in a public setting.
Fears about its fate grew after a Delancey statement in May said it was reviewing public art installations as part of a £30m redevelopment of the centre and felt "a new piece of artwork may be appropriate".
Hundreds of people backed a social media campaign to have the sculpture returned.
RBS Capital Resolution Group chief executive Rory Cullinan said: "We are delighted that the people of Wolverhampton will continue to enjoy the artwork."