Walsall Council warns of job cuts and library closures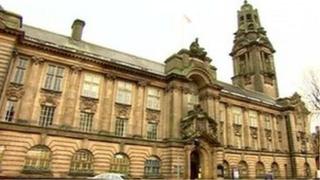 More than 400 jobs could be cut at Walsall Council along with closures of libraries and children's centres, the authority has warned.
Council leader Sean Coughlan said it needed to find £86m savings over the next four years.
He said eight libraries could close, as well as 12 children's centres, while care packages could also be affected.
The proposals go before the cabinet on 28 October with public consultation expected to follow.
'Feel pain'
The Labour-led authority claims £22m out of the £29m cuts it needed to find in the next financial year was as a direct result of reductions in government funding.
A spokesperson for the Department for Communities and Local Government said: "Local government accounts for a quarter of all public spending and since 2010 government has delivered a fair settlement to every part of the country, including Walsall.
"The majority of local authorities have continued to balance their budgets whilst reducing council tax in real-terms and increased or maintained public satisfaction with services.
"All councils should be making sensible savings and keeping council tax down by merging back office services or doing more joint working."
They said the government had yet to announce any spending allocations for councils beyond the 2015-16 financial year.
Gerard Coyne from the Unite trade union said the planned cuts would put "vital services" under "extreme pressure".
Mr Coughlan said: "There won't be any part of the council that won't feel pain. There won't be any community in Walsall that won't feel some pain."
He said while children's centres could close, the council was already in conversations with local schools to help accommodate those services.
Walsall Council said 430 jobs could go over the next two years, on top of 422 cuts made over the last four years.