Birmingham New Street trains face storm delays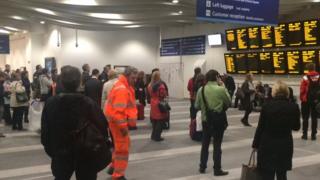 Rail services from Birmingham New Street have been badly affected by storms.
Overhead wires near Bloxwich were damaged by a fallen tree and another tree fell on lines at New Street.
Dozens of services were cancelled, while many others faced delays of more than 30 minutes.
London Midland said a tent blown on to overhead lines had also affected services between Birmingham and Walsall.
Services from Birmingham to Rugeley Trent Valley also faced delays, while London Midland said buses had been brought in to replace trains between Walsall and Rugeley on Tuesday afternoon.
'Just panic'
Meanwhile, firefighters in Walsall said a man had a lucky escape after a tree fell on his lorry shortly after 15:00 BST.
It was one of dozens of trees to be brought down on roads across the region.
A house in Hodge Hill was also hit by a tree.
Adnan Khan said: "We were inside, just having a cup of tea and then my mum heard a huge gust of wind, so she went out to have a look and she said 'oh my God, the tree has fallen and hit the house'.
"It was just panic. There's still danger associated with it. It could collapse further and break some windows, but it seems ok."