Birmingham's LG to become Genting Arena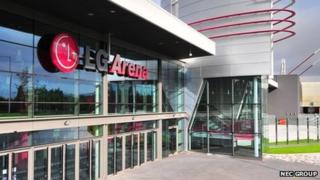 Birmingham's LG Arena is to be renamed as part of a new sponsorship deal.
The venue, situated on the NEC complex near Solihull, will be known as the Genting Arena from January.
NEC Group chief executive Paul Thandi said the casino firm's sponsorship would last at least five years.
Birmingham City Council announced it had put the group, which includes the International Convention Centre, up for sale in March.
The authority faces a £1.1bn legal bill to settle equal pay claims against it.
Mr Thandi said the search for a buyer was making "good progress" and it was hoped an announcement would be made by the end of the year.
The LG Arena
Opened in 1980 as the NEC Arena - Queen were the first act to perform
Total capacity of 15,683 people
Renamed the LG Arena in 2008 as the result of a sponsorship deal.
Underwent a £28m redevelopment shortly after its name was changed.
Hosts "over 100 events a year", including music and sport, according to the NEC Group.
The name-change announcement comes after the National Indoor Arena was re-branded the Barclaycard Arena in September, after 23 years with its previous moniker.
Mr Thandi said a potential buyer for the NEC Group would be "categorically" bound to honour contracts with both sponsors.
Malaysian firm Genting is already working on a £150m casino complex at the NEC site.
It has signed a five-year sponsorship deal, with a five-year renewal clause included, Mr Thandi said.
The arena management said tickets purchased for any shows from January onwards would still be valid.