Birmingham surgeon Nafees Hamid "fitted up" by police, court hears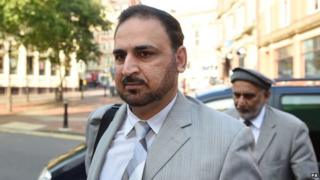 A neurosurgeon accused of sexually assaulting 10 female patients was "fitted up" by police, a court heard.
Barristers for Nafees Hamid, 50, from Moseley, in Birmingham, said detectives had been "sloppy" while building a case against the consultant.
Alan Jenkins, defending, accused complainants of "changing their accounts" due to the way the investigation was carried out.
Mr Hamid, on trial at Birmingham Crown Court, denies 14 sexual offences.
The alleged assaults are said to have taken place between 2009 and 2013, while Mr Hamid was employed at the Queen Elizabeth and Priory hospitals.
'Contaminated accounts'
In closing arguments, Mr Jenkins told jurors Mr Hamid had carried out "appropriate and legitimate" medical examinations
At the start of the trial, prosecutor Jonas Hankin QC, said Hamid had performed intimate examinations for a "sexual purpose".
But Mr Jenkins said a police probe into allegations had taken place at the same time as an investigation by University Hospitals Birmingham NHS Foundation Trust.
He said this had the potential of causing "contamination" and "cross-fertilisation" of the different complainants' accounts.
Testimony of some complainants, most of whom came forward after a letter was sent out to Mr Hamid's patients by the NHS trust, had changed, Mr Jenkins said.
"Accounts have changed, perhaps because people's recollections change, or perhaps because of sloppy police work," he said.
Mr Jenkins further accused police of "exaggerating" Mr Hamid's actions while being interviewed.
In all cases, he said, those examined by the surgeon had given consent.
"There's scope, you may think, for misunderstanding and embarrassment," he said.
The trial continues.