LGA chair Dave Sparks collapses in Commons committee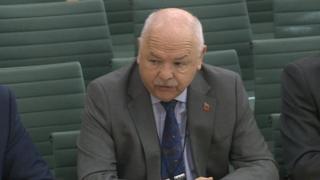 Local Government Association (LGA) chairman Dave Sparks has collapsed during a Commons committee meeting.
The Political and Constitutional Reform Committee session was suspended after 45 minutes as Mr Sparks slumped in his chair as he began answering a question.
The camera feed was instantly cut as MPs and officials reacted.
Mr Sparks, leader of Dudley Council, had been giving evidence to MPs on the issue of devolution across the UK in the wake of the Scottish referendum.
A spokesperson for the LGA said Mr Sparks had recovered and described the cause of his collapse as "nothing serious".
He did not need hospital treatment.
Mr Sparks was elected chair of the LGA in July and is also a member of the National Executive Committee (NEC) of the Labour Party.