Birmingham 'super tunnel' considered for A38 through city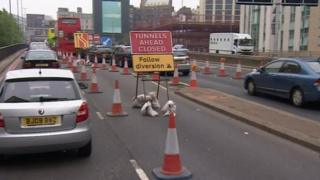 A "super tunnel" is one of the options to be considered in a bid to relieve city centre congestion in Birmingham, the council has said.
The road, running underneath the city, is one of a host of options to be presented to councillors on 13 November.
Re-routing the main A38 road through the city away from its current path was another option, the council said.
Every potential solution was being given equal priority, a spokesman said.
The council said a tunnel would be the most expensive option, but nothing was being ruled out at this stage.
'Massive barrier'
Last year, the authority launched its 20-year transport proposal, called the Birmingham Mobility Action Plan (BMAP).
The future of the A38 and its tunnels, described as an "unattractive barrier" to movement and development, was one of the key focal points of the plan.
Options being considered
Joining up the existing St Chad's and Queensway tunnels underground
Fill in the existing tunnels and re-route the A38 away from the city centre
Replace the A38 with a new super tunnel under the city
Add new bridges to improve connections over the A38
Route some traffic away from the centre to the ring road
Its options could better connect the Jewellery Quarter to the city centre, ease congestion on the A38 and release land for housing and business use.
Councillor Albert Bore, leader of Birmingham City Council, said the city is "lagging behind many UK and European cities" in its transport systems.
The council said nothing will change in "the short term" and any options being discussed are for long-term planning.