West Midlands Sikhs temple procession honours founding guru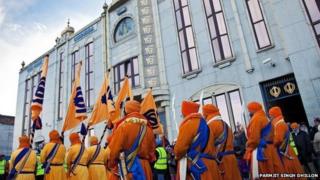 Thousands of Sikhs took part in a march in the West Midlands to honour the birth of the founder of their religion, Sri Guru Nanak Dev Ji.
The procession, called a Nagar Kirtan, started at a temple in West Bromwich at 09:30 GMT on Sunday and was due to finish in Smethwick at 14:00 GMT.
The Sikh holy scriptures were carried on a decorated float at the head of the procession.
The procession was due to visit five of the eight Sikh temples in Sandwell.
Sri Guru Nanak Dev Ji was born in 1469 in a village called Talwandi, now called Nankana Sahib, located in present-day Pakistan.