Abandoned car in Birmingham racks up £9,500 parking ticket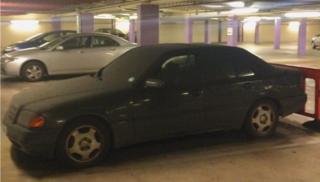 A motorist has accumulated more than £9,500 in unpaid parking tickets after leaving a car in a multi-storey in Birmingham for more than two years.
The unlocked black Mercedes was abandoned in the Broadway Plaza car park, off Five Ways.
A service record showing a Coventry address was found inside the car.
But APCOA, which manages the £13-a-day 1,400-space car park, said the owner had not responded to its attempts to make contact.
A spokesman said APCOA became aware of the vehicle more than two years ago. It has a damaged rear axle.
"I would imagine it's only worth a few hundred pounds and the owner does not deem it worth going back for," he said.
He added: "The frustration is, like anywhere in Europe, it's private property. You can't just wheel something away because it's theft."
APCOA said checks had shown the vehicle was not stolen and it had now referred the matter to Birmingham City Council.
A spokesperson for the local authority said it would contact the DVLA for the details of the registered keeper, then send a letter.
The car will be removed if the owner does not make contact in seven days, the spokesperson added.
APCOA said there was no plan to pursue the owner through the courts for unpaid tickets.
The BBC has asked West Midlands Police if the vehicle is wanted in connection with any of its inquiries.