West Midlands Police: 27 front desk to close over next year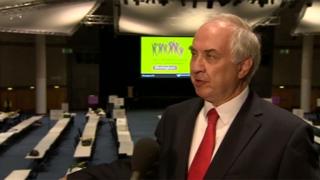 West Midlands Police has announced 27 of its 41 front desks are to close across the force area, putting about 90 jobs at risk.
Ten front office counters will remain in operation, nine will be open from 08:00 to 22:00 and one for 24 hours a day. Four desks run by volunteers will also remain open.
The 27 closures, over the next 12 months, will save £3m, according to the force's Police and Crime Commissioner.
Unite said it was "disappointed".
Carl White, branch secretary at West Midlands Police, said: "They are a major part of all communities and the amount of jobs that will go is another sign that services are being affected by cuts.
'Increasingly expensive'
"It's a terrible time for West Midlands Police but a much worse time for the general public and staff are being put at risk just before Christmas."
More than 2,700 jobs, including 1,100 officer posts, are to go by 2015 to save £126m.
Further funding cuts could lead to the loss of hundreds more jobs, the force said last year.
The exact number of job losses connected to the desk closures is not yet known but it is estimated about 90 posts were at risk, Mr White said.
Unison trade union branch secretary Jill Harrison said the cuts would have a "massive impact" both on its members as well as other police staff in the region.
The union said the region was being penalised "unfairly" by the cuts and that it was "worried" about the effect they would have on the public.
The force, however, said the decision came after an independent review of how much the public used the offices.
Police and Crime Commissioner David Jamieson said the current front desk service "doesn't meet people's preferences and is becoming increasingly expensive as fewer and fewer people use it".
"We need to deploy staff to call centres where possible to free up resources that keep police officers where people want them: on the street, preventing crime and catching criminals," he said.
Responding on Facebook, some people said the cuts would affect people's ability to contact police in an emergency.
Marc Warklate said money was being put "before people's safety", while Colin Trombley said the offices were often the "first port of call".