Birmingham pub bombings: Service marks 40th anniversary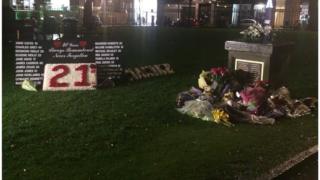 A memorial marking the 40th anniversary of the Birmingham pub bombings has been held.
In November 1974, two bombs exploded in the Mulberry Bush and the Tavern in the Town, killing 21 people and injuring 182 others.
Hundreds of people attended a service at Birmingham Cathedral, followed by a vigil at a memorial to the dead.
The service was attended by family and friends of those killed or injured.
During the service, names of the 21 people killed in the blast were read out, followed by a two-minute silence.
'Dignity'
Addressing the congregation, Cathedral Dean Catherine Ogle said the service was intended to remember the dead and "to offer prayers for those who were injured".
"It is also to support one another and to look to the future," she said.
She said the service, a mix of hymns and religious readings, was intended to provide an opportunity for "quiet reflection".
"The wounds are still fresh," she said. "I think it's important that we still remember and that we give it some sort of dignity."
Pat Bentley's friend, Jane Davis, was the youngest person to be killed in the bombings, aged 17.
Ms Bentley said the memorial service was important for Birmingham, even four decades after the event.
"It was a huge atrocity in Birmingham and it's affected so many people," she said.
"We have to remember the people that died.
"We have to celebrate the lives they led before this terrible tragedy."
Families of the victims have called for inquests into the deaths to be held.
Justice 4 the 21, a campaign group led by siblings Julie and Brian Hambleton, whose sister Maxine was killed in the explosions, has been pushing for the case to be re-opened.
On Thursday, a concert organised by the group at Birmingham Town Hall attracted more than 700 people.
A social media thunderclap - where users simultaneously post a remembrance message to their profiles - took place at 20:17 GMT, the time of the first blast.