Christina Edkins stabbing: New inquiry into death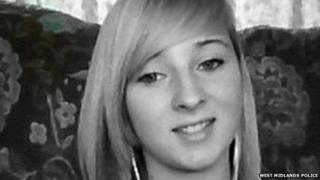 A new inquiry has been commissioned into the death of a teenager who was stabbed on a bus on her way to school.
NHS England confirmed the family of Christina Edkins, 16, from Halesowen, had written to request a further review into her killing.
The schoolgirl was killed on a rush-hour bus by paranoid schizophrenic Phillip Simelane in March 2013.
An earlier report found authorities missed chances to refer Simelane for mental health treatment.
A spokesperson for NHS England in Birmingham, Solihull and the Black Country said the multiagency report was also reviewed by an investigation committee.
"Taking this into consideration, as well as the family's wishes, it was felt this case would benefit from a further review," they said.
Simelane, from Walsall, was detained indefinitely under the Mental Health Act after he admitted manslaughter.
He had been diagnosed with paranoid schizophrenia.
The report by Birmingham Crosscity Clinical Commissioning Group found he had first been diagnosed with mental health problems when he was at school.
But, it said, his mother's repeated attempts to get help were ignored by GPs and social workers.
Conservative MP James Morris recently raised the issue in the House of Commons and also called for a further review.
"It was commissioned locally but has wide national applicability," he said.
"How can we ensure that the lessons of this report and the recommendations are implemented nationally?"