In pictures: 'Real' Peaky Blinders sourced from police mugshots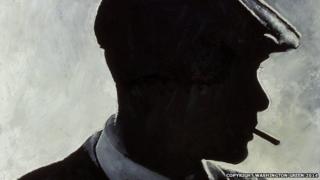 The "real" faces of Birmingham's Peaky Blinders have been revealed in a new exhibition.
The portraits, based on mugshots in West Midlands Police's archive, were painted by Birmingham artist Jon Jones.
Mr Jones said he had found the experience of painting the early 20th Century Birmingham gangsters, whose story was made famous in the BBC drama, "fascinating".
The paintings will be on display at the International Convention Centre (ICC).
Dave Cross, keeper of the West Midlands Police Museum which keeps the original pictures, said the BBC series had brought the gang's history to the "forefront of discussion".
The series stars Cillian Murphy as Thomas Shelby, the leader of a notorious gang of ne'er-do-wells.
Mr Cross said the exhibition managed to uncover "the actual men and women who were the inspiration for the show".
"The paintings manage to bring these people to life," he said.
"Painting them up close really gave me a flavour for them as people," added Mr Jones.
"Expressions give portraits a lot of life and the Peaky Blinders gave me a lot to work with, as their faces were full of attitude."
The exhibition will run at at Castle Fine Art, in the ICC, from 13 December until 23 December.