Plans for new M42 services unveiled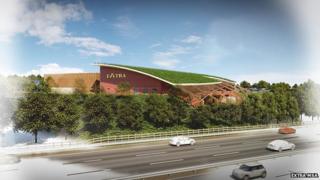 Plans have been unveiled for a £65m service station on the M42 motorway.
Solihull Services would be situated between Hampton-in-Arden and Catherine-de-Barnes, near to Birmingham Airport.
Up to 300 jobs could be created and £12m would be spent on a new road for access to the services, Extra MSA, the company behind the plans, said.
The proposals, on greenbelt land, will be submitted to Solihull Council next year with a final decision to be made by the Secretary of State.
Two public exhibitions of the plans will be held on 12 and 13 December.
Analysis
Peter Plisner - BBC Midlandstransport correspondent
Putting a motorway service area between Hampton-in-Arden and Catherine de Barnes was always going to be highly controversial.
It certainly proved that way 15 years ago when a similar plan was lodged and came to nothing.
But it was only a matter of time before someone else had a go and Extra MSA has chosen exactly the same site.
It is a location that is expected to provide rich pickings if it comes to fruition.
The M42 in the West Midlands is one of the busiest parts of the motorway network and considering the location of other service areas at Warwick and Tamworth, it is seen as an ideal place to take a break.
Planning permission will not be easy though - local residents are seasoned campaigners, having fought airport expansion and more recently HS2.