Birmingham Children's Hospital treats record number for cold and flu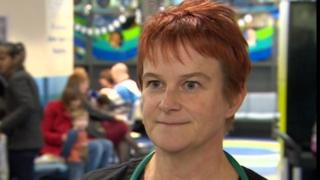 Extra staff and beds have been drafted in to a children's hospital to help treat a record number of patients.
More than 220 children are currently being treated within 24 hours at Birmingham Children's Hospital, up from a previous record 205.
Most children have been suffering with flu-like symptoms.
Medics are urging parents to consider seeing GPs or trying walk-in centres first as some could face a six or seven-hour wait at the hospital's A&E.
Up to 19 more beds are being used to try to cope with demand, with some staff working extra shifts as well as all teams using extra staff.
'No respite'
Dr Tina Newton, from the emergency department, said she could not say if they were seeing an epidemic.
However, she said last year the number of people suffering from colds and flu was low so a peak was expected and it looked like this year "is going to be one of our bad years."
"We've never been this busy," she said.
"Up until a week ago our record attendance in this department was 205 patients in 24-hours and that's just been blown out the water.
"We had 223 on Monday and pretty much every day we've been in the 200s.
"There's no respite in the middle of the week."
But she said if a child is very sick then parents should take them to hospital but, if they are just unwell or parents are not sure then consider trying pharmacists or calling the NHS 111 number.