Smethwick primary school closed by hazardous smoke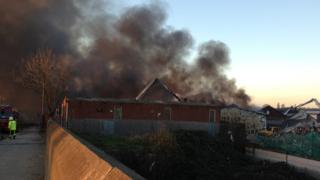 A primary school in the West Midlands has been forced to close for a second time because of hazardous smoke from a fire at an industrial unit.
The fire on the Middlemore Industrial Estate in Smethwick broke out last Wednesday.
Wattville Primary School said a change of wind direction meant "hazardous smoke and fumes" were being blown across the school grounds.
The fire service said they still had one pump damping down the fire.
At the height of the blaze, 80 firefighters were involved in tackling the blaze.
Units housing electrical goods, clothes and stationery supplies were affected.
The school, which closed the day the fire broke out, said it will be contacting all parents and "the relevant councils" to discuss its next steps.