Birmingham Library staff halved in council budget cuts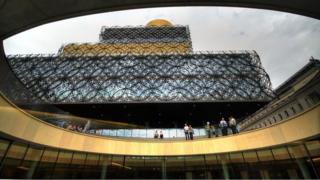 More than half the staff at Birmingham's new £189m library are to be made redundant under city council cuts plans.
The Labour-led authority said it needs to cut £117m from its budget next year.
Under the plan, 100 of the 188 staff will lose their jobs in a budget council leader Sir Albert Bore said was the toughest he had dealt with.
The cuts are part of 1,100 going next year and part of 6,000 to go by 2018, which the council previously revealed.
The GMB union has been angered by the planned job losses, which it said will lead to "drastic reductions to essential services".
'Deeply distressing'
Financial support for major public events in the city, such as Pride, St Patrick's Day and Vaisakhi, are also being axed under the plans.
Library opening hours, more than 100 back office workers and around-the-clock CCTV monitoring will also be affected.
Cuts in social care mean 200 fewer people with a physical or sensory disability will receive a service in 2015/16 and 1,600 fewer people with a mental health need or learning, physical or sensory disability will receive a service from 2016/17.
Impact of the proposed cuts
Reduced pest control. People will have to pay for cockroach, bedbug treatment
Funerals to cost more. Not as much maintenance at cemeteries
Market fees to increase
Increased charges for trade waste
More expensive alcohol and entertainment licences
Less preventative work to stop drains being blocked
Fewer children to receive careers advice
Up to 20 football pitches decommissioned to save £29,000
Maintenance of 16 cricket pitches and all bowls pitches to end in order to save £220,000
No more funding to CAB, Freshwinds, Birmingham Settlement, Age Concern, Cole Valley, Asian Resource Centre and Castle Vale TRA
Penny Holbrook, from the council, denied the cuts to the library, which will see opening hours cut from 73 to 40, were "embarrassing".
"I think it's really, really sad and deeply distressing but there is no service that will remain untouched given the scale of government cuts we are facing," she said.
The authority has issued a white paper setting out its proposed budget savings for next year and identifying how it plans to save £338m in the next four years.
As part of the savings this year, the city's 250 CCTV cameras will no longer be monitored around the clock.
There will be an increase in open market traders car boot sales in a bid to raise money, the council said.
A further £20m-a-year will be invested in children services from 2015-2016.
Sir Albert Bore said the cut in government grant meant a 5.7% reduction on spending power for the city, which was three times the average of 2% among most councils.
"This is the consequence of cuts, we will be doing less," he said.
"We have been saying this for several years."
Political analysis by Patrick Burns
The £117 million spending reductions proposed for next year by Sir Albert Bore are full of ironies, paradoxes and contradictions: his ruling Labour group carries responsibility for them, but it is the coalition government to which he ascribes the political blame.
The biggest single hit is to the prestige Library of Birmingham, which will lose 100 staff and have its opening hours cut back, on the very day that the Nobel Prize was collected by Malala Yousafzai, who identified it as a powerful symbol of learning for all when she opened it last year.
Sir Albert said his authority was undergoing a process of "profound change" under the government cuts.
But Conservative council leaders like Philip Atkins in Staffordshire, have long stressed the virtuous circle of local government working smarter, forming partnerships and generally delivering better for their council tax payers' money while improving the services they deliver to them.
Birmingham Pride organiser Lawrence Barton, said he understood cuts had to be made. The event, which attracts thousands of people, costs £400,000 to organise with £20,000 from the council.
"It's a disappointing time because it's a huge event for the whole city," he said.
He said while it was a marginal amount of money, it was upsetting because it showed the council was not behind it.
Unison regional secretary Ravi Subramanian said the council "was not to blame" for the position in which it found itself.
He said the previous administration had failed to deal with the Equal Pay bill and the other major factor was the reduction in government grant.
He described the cuts as "devastating" and added: "People will be spending Christmas wondering if they have a job to come back to."