Levi-Blu Cassin murder trial: Father loved son, court hears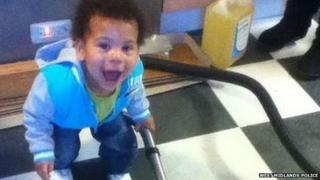 A man accused of murdering his one-year-old son has said he "loved him to bits" and never harmed him.
Mark Piper was giving evidence at Birmingham Crown Court over the death of Levi-Blu Cassin from "horrific" internal injuries in 2013.
The 31-year-old and Levi's mother, Danielle Cassin, deny murdering him.
Mr Piper, of no fixed address, also denied assaulting his two other children and an alleged "sex-for-drugs" arrangement with Ms Cassin.
'Humble child'
The court heard Mr Piper began his relationship with Ms Cassin, 27, of Frensham Close, Chelmsley Wood, when he had another partner but said he was "happy" when Ms Cassin gave birth to Levi.
"I told her later I did want a kid with her. He looked like me. I loved him to bits just like I did the other kids," he said.
He told the court he taught Levi to say his name and regularly played with him.
"He was a humble child and well behaved," he said.
"More for me than his mum."
Mr Piper said Ms Cassin had a drug problem, which caused arguments in their relationship. But he denied ever supplying drugs to her.
'Lots of rows'
"Half of the time it was all right, the rest it was a headache," he said.
"Drugs were a big issue. She would ask for money and I used to just give in and give it her."
He said evidence from previous trial witnesses alleging he had assaulted two of his other children, including punching a five-year-old in 2012, was "fabricated".
Levi was found at the flat his parents shared in Nightingale Avenue, Chelmsley Wood, on 20 February 2013.
Mr Piper and Ms Cassin also deny causing or allowing the death of Levi and causing him suffering.
The trial continues.