British expats fear EU debate might backfire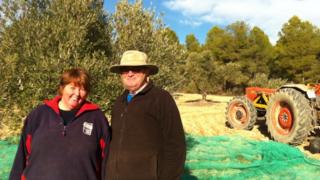 David Cameron is proposing a series of welfare reforms to try to curb EU immigration. But his proposals have British expats worried - what will any changes mean for them?
A farmer waves a fork-like machine through the branches of an olive tree. It knocks the olives on to nets below that his wife has laid out to catch them.
A typical day's work for a farmer in rural Spain - but this is a less than typical location for a couple from Birmingham.
Neil and Rachel Sampson swapped the Midlands for Mazaleon in Aragon - which lies about 130 miles (219km) west of Barcelona - 18 months ago.
They took the plunge after Mr Sampson, 53, was made redundant from his job as a business analyst when the Birmingham firm Tucker Fasteners closed down.
Mrs Sampson quit her job as a healthcare assistant and with their children Conrad, 10, and Imogen, 15, they moved to a 35-acre farm.
She said their new life was only made possible by Europe's open borders.
"I don't think we would have done it if there hadn't been the complete free movement between Spain and the UK and between other EU countries."
Mr Sampson is worried that changes to Britain's relationship with the European Union might affect them.
He sells his olives at a local cooperative but this currently does not generate enough to live on.
He also does some part-time work but fears he may need to go on to unemployment benefit if his farm does not work out.
Any changes to Spain's benefits rules for incomers could affect him in the future, he says.
"It can end up in a tit-for-tat thing where Britain says it's going to give EU immigrants half the benefits the UK people get. So why would those other countries not think, maybe we should do the same? It could have a knock-on effect," he said.
There are more than two million Brits living in EU countries for at least part of the year and Spain has proved the biggest draw.
Over a million of them have come here. So the argument about EU migration goes both ways.
At a bar I find some Spanish farmers with their own concerns.
Luis Gil Armengol tells me that while he likes the Sampsons, he wants less immigration.
"I would like them to close the door a bit and for fewer people to come in because there is a crisis here," he said.
"We are in a bad way and we can't have so many people coming in."
A few miles down the road is Maella - an old town with a crumbling castle, in a country still straining under the burden of high unemployment and deep spending cuts.
The town's mayor Jesus Gil Ferrer told me he thought immigrants should only be allowed in with job contracts.
One pair who have started a business here are Karina Roberts-Taylor, 48, from Burton-upon-Trent in Staffordshire, and her husband Rafe, 68, from London.
They make and sell traditional English food to expats. At the moment Mrs Roberts-Taylor is making Christmas puddings.
Mr Roberts-Taylor worries his pension might be affected if Britain leaves the EU, but Mrs Roberts-Taylor supports David Cameron's plans to make EU migrants work for four years in Britain before they can claim benefits.
"I don't think people who come over really want to be involved in British society. All they want to do is move, have the benefits and not be involved in what goes with it," she said.
At a Spanish language class in Maella, however, Dutch immigrant Cita Pel, from Apeldoorn in the Netherlands, tells me the British approach is wrong.
"They would make a first and a second Europe because they would say the people from rich countries like the Dutch can go to England to work, but people from Bulgaria cannot," she said.
"You can't do that. You are united or you are not united."
Little light has been shed on what a renegotiated relationship with Europe might look like.
Professor Andrew Geddes, who lectures in politics at the University of Sheffield, said any changes to the EU legal framework would be "incredibly difficult" for David Cameron to negotiate.
"As soon as he made his speech, there was a negative reaction from other European countries," he said.
However, if he were to be successful, Professor Geddes said he imagined any restrictions would be "reciprocal".
"You can't imagine the Spanish saying it's fine for British pensioners to access all their medical facilities while Britain prevents Spanish people from accessing certain benefits in the UK," he said.
"You would think there would be implications for Britons who want to move, live and travel abroad - and there are a lot of British people who do that."
A Downing Street representative said that David Cameron's speech had made it clear any measures taken in Britain regarding EU immigration may well end up being reciprocated abroad.
"We would expect any measures we take could end up working the other way round for British people abroad," he said.
British expats are just hoping European countries are no less accommodating to them as a result.