Levi-Blu Cassin murder trial: Fatal blow 'not struck by accused father'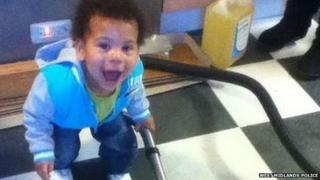 A father was not responsible for killing his one-year-old son because he was not with him when the fatal blow was inflicted, a court has heard.
Mark Piper, 31, is jointly accused of murdering Levi-Blu Cassin along with his mother Danielle Cassin.
Levi, from Birmingham, died from "horrific" internal injuries in 2013.
Paul Lewis, defending Mr Piper, said some medical evidence suggested the injury could have been caused when he was not at the home the couple shared.
Closing the case for the defence at Birmingham Crown Court, Mr Lewis said "to all intents and purposes" Levi died at about 05:00 at the home in Chelmsley Wood on 20 February last year, despite the official time of death being recorded a short time later.
'On a session'
To calculate when the injuries were inflicted, he said "the thrust" of the medical evidence put it at "the lower end of 12 hours", or in a "single figure", with one specialist paediatrician pathologist saying "probably less than eight hours".
He said therefore the injuries could not have happened some 13 hours or so earlier during the previous day when Ms Cassin was out at a local shop and Mr Piper at home.
But "10 o'clock fits or thereabouts" on 19 February when Mr Piper, now of no fixed address, had gone out to meet a friend leaving his partner at home.
Mr Lewis said Ms Cassin's main focus was drugs and said her sister had previously said she wanted to go out "on a session to get drugs" the night Levi died.
Earlier, Ms Cassin's defence barrister Christopher Millington QC told the court Mr Piper was a man "with a propensity to attack children".
The court has previously heard that an ex-girlfriend had said he had been violent towards her and her son.
Mr Millington said the brutality of the attack on Levi speaks "as to the identity" of who did it.
"They were never acting together. This is the work of a brutal individual acting alone," he said.
Mr Piper was also "dismissive" of a child protection plan, Mr Millington said.
He was a "highly possessive and controlling partner", the barrister added.
The couple also deny causing or allowing the death of Levi and causing him suffering.
The trial continues.