Tree hits bus on Hagley Road on Birmingham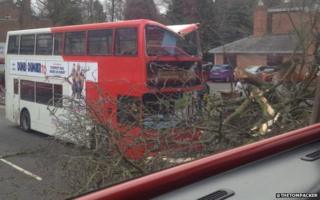 A tree branch has hit a bus in Birmingham, closing the road and causing delays but nobody has reportedly been injured.
The bus was on the Hagley Road, Edgbaston, near the Eaton Hotel at 11:15 GMT when the branch came down.
Police said they had not received any reports of injuries.
The road was closed out of the city between the B4129 Norfolk Road and Westfield Road, and reopened at about 13:45 GMT.