Levi-Blu Cassin: Toddler death parents 'told lies'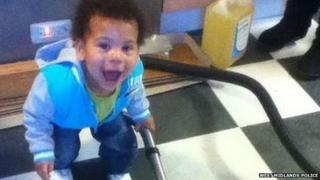 The judge in the trial of two parents accused of murdering their 22-month-old son has told jurors they must carefully consider "lies" told by the defendants.
Mr Justice Goss said Danielle Cassin, 27, of Birmingham, and Mark Piper, 31, had admitted lying at "various" times in relation to the case.
Jurors must decide whether the pair had lied "for a reason" or to disguise their involvement in Levi-Blu's death, he said.
The pair deny their son's murder.
Mr Justice Goss said both defendants admitted having lied "or certainly not revealing the truth in relation to this case" at various times.
'Drug use'
Mr Piper had admitted lying to cover up Ms Cassin's drug use, the judge said, while she confirmed she had lied "out of fear of her co-defendant" and a desire to stay with him despite their abusive relationship.
But they deny being particularly deceitful about the last 24 hours of Levi's life, during which time the prosecution say he sustained fatal abdominal injuries, the judge said.
"Telling a lie in itself does not establish guilt," he said.
"Generally, when you tell a lie, you tell a lie for a reason.
"Some people tell a lie out of panic or to bolster a true defence or for some other reason not down to guilt."
Jury sent out
It is up to the jury, the judge said, to decide if the pair have told lies "in addition to the ones they admit".
"You may," he said, "feel their persistence in lying was out of loyalty to the other, and a fear of admitting to any wrongdoing, a fear which overcame any instinct to tell the truth as to their real involvement and thereby save him or herself."
Before sending the jury out to consider its verdict, Mr Justice Goss recounted both defendants' accounts of Levi's last 24 hours alive.
Both, he told jurors, said Levi had been sick in the run-up to his death, but neither could explain how he came to be in the condition which caused his death.
"At least one of them is not telling the truth," he said.
"Depending on your findings, both of them may not be telling the truth.
"This is all for you to resolve."
Ms Cassin, of Frensham Close, Chelmsley Wood, and Mr Piper, of no fixed abode, deny murdering Levi, who was pronounced dead on 20 February last year.
They also deny causing or allowing the death of Levi and causing him suffering.