Andrew Leigh jailed for life for murdering estranged wife Luan Leigh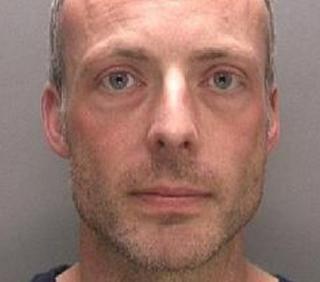 A man has been jailed for life for drugging his estranged wife with sleeping pills before strangling her.
Andrew Leigh, 43, was convicted of murdering his wife Luan, 42, at her home in Pype Hayes, Birmingham.
A judge at Birmingham Crown Court said the telecoms engineer will serve a minimum term of 25 years.
Leigh, of Kennedy Close, Sutton Coldfield, was also found guilty of attempting to murder two children, who cannot be named for legal reasons.
He was found guilty of murder after a week-long trial.
Police said Leigh had been unable to accept the end of his marriage after the couple separated a year earlier.
He had "invited himself" for dinner at the former marital home on 29 June, they said.
It was there Leigh drugged his wife before strangling her in an upstairs bedroom at the house in Woodlands Farm Road.
He had told police and Mrs Leigh's family he had discovered her dead body in bed.
But a post-mortem examination found she had died from "compression to the neck" and toxicology tests revealed Nytol was present in her system, police said.
Empty packets of the drug were also found next to her body, they added.
The court heard Leigh had bought Nytol earlier that day at a local pharmacy.
Det Insp Warren Hines, from West Midlands Police, said: "The couple had been married for around 7-8 years, but had been together for 22 years and were still friends, despite the split.
"However Luan found Leigh to be controlling and was encouraging him to move on with his life.
"Andrew Leigh was controlling and overbearing and he did not accept his marriage to Luan was over.
"He has, through his actions, deprived Luan's family of a much-loved daughter, sister and friend.
"I very much hope today's verdict will in some small way allow Luan's family to start rebuilding their lives after the terrible events of June this year."