Knife 'had murder accused's blood on it'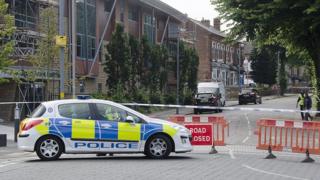 Blood and DNA from one of seven defendants accused of murdering a man in Birmingham were found on a knife at the scene, a court has been told.
Ikram Ullah Khan, 28, was stabbed in the neck in the Stratford Road area of Sparkbrook when violence flared between two groups of men last July.
Prosecutors told Birmingham Crown Court he was stabbed by Umar Zazai, 25, and that the defendant's blood was found on the knife used to kill Mr Khan.
All seven defendants deny murder.
They also deny conspiring to inflict grievous bodily harm with intent.
During the violence, one man suffered about 40 puncture wounds from shotgun pellets and another was slashed, exposing his lung.
'Unsurvivable damage"
Prosecutor Timothy Spencer QC told the jury various weapons, including bats and sticks, were recovered with others found in cars allegedly used by the defendants to get to the scene.
Some weapons and vehicles had fingerprints and blood or DNA traces on them from some of the defendants.
Mr Spencer said Mr Khan's stab injury was below his ear and stretched across his jawbone. The blade severed a major artery, causing "unsurvivable damage".
The weapon, allegedly from Mr Zazai's home, was found on a driveway near where the disorder erupted, Mr Spencer said.
Mr Zazai himself suffered a slash wound across his chest so severe it exposed his left lung.
Another of the accused, Naweed Bashardost, 23, of Alum Rock, suffered 42 puncture wounds when a shotgun was discharged, the prosecutor said.
'Medieval warfare'
"The ferocity of this conflict is very clear," Mr Spencer said.
"It was absolutely brutal."
Although the reason for the clash was unclear, he said the two groups were ready and prepared to fight.
"Each had their own role to fulfil," he said.
"Their choice was to fight out their differences in a fashion akin to medieval warfare on the streets of this city in the 21st Century."
He said when questioned by police some of the men refused to comment or said they knew nothing of any organised fight, with one defendant saying he thought they were gathering to play a game of cricket.
The seven accused are:
Khalid Jan, 23, of Ombersley Road, Sparkbrook
Umar Zazai, 25, of no fixed address
Sardar Khattak, 34, of Foxwell Road, Bordesley Green
Mujahid Chambili, 23, of Adria Road, Sparkhill
Mirwais Chambili, 18, also of Adria Road, Sparkhill
Naweed Bashardost, 23, of Saint Saviours Road, Alum Rock
Ezatullah Ahmadzai, 21, Bowyer Road, Alum Rock
The trial continues.