Birmingham vigils for Paris terror victims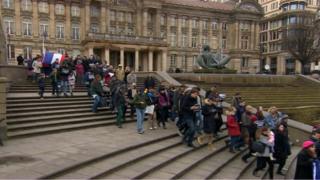 People from the French and Jewish communities in Birmingham have taken part in a "Je suis Charlie" march of solidarity.
A silent vigil has been held outside the French Consulate before the march in tribute to the 17 people killed in the Paris terror attacks.
Prayers were said in both English and Hebrew outside the consulate.
A second vigil, organised by people from the French community, took part in Centenary Square.
Participants then walked to the city's Victoria Square.
Ruth Jacobs said it was important to take part.
"We have a responsibility to stand up against racism, against Islamophobia, against anti-Semitism and to be able to make a difference in this world where people are being killed in shocking numbers," she said.
Meanwhile, major London landmarks have been lit in the colours of the French national flag.
Tower Bridge, Trafalgar Square and the National Gallery are among monuments lit in red, white and blue.