Cadbury's reveals 200 job cuts at Birmingham Bournville plant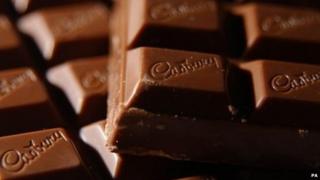 About 200 jobs are to be cut at Cadbury's plant in Birmingham as part of a deal to invest £75m in new production lines at the plant.
Owners Mondelez International announced the investment last year and warned of likely cuts.
It has now agreed a deal with unions. The posts are expected to go over the next two years and be achieved through voluntary redundancies.
Trade union Unite said there would be no compulsory redundancies.
Jerry Blackett, chief executive of Greater Birmingham Chambers of Commerce, said "very generous terms" had been set with "payments averaging £100,000, depending on length of service".
He also praised how the deal had been reached between management and staff.
More than 900 people currently work at the factory.
Mondelez said the cuts were necessary to make Bournville more "competitive" and secure its long-term future.
The site currently manufactures products including Dairy Milk, Creme Eggs and Wispas.
The £75m investment is expected to see equipment modernised at the plant, allowing it to bid for new products.
Unite has previously said efficiency at Bournville had suffered due to outdated machinery, meaning it could not compete with other factories in the group.
US food giant Kraft bought Cadbury in 2010 for £11.5bn, before renaming its global snack division two years later.
'Good deal'
Unite said the move would help safeguard the future of the plant for the next 20 to 25 years.
Union representative Joe Clarke said many of those choosing to leave Cadbury were likely to be over 55 and would get a "good deal" on their redundancy package.
"People staying will be taking on extra skills and getting 2% pay increase on top of an annual pay award," he added.
"The individuals that wish to remain employed will be able to do so because the threat of compulsory redundancy has been removed. It's a good deal from our members' point of view.
"We have a really good, loyal workforce and there's a good relationship established between the management and the union.
"I was always concerned after the Kraft takeover.
"But we are in the fifth year of that deal now and to be getting all of this equipment, which enables us to compete effectively, means I am far more relaxed about the site's future than I have been for a long time."
---
History of Cadbury
John Cadbury's shop was opened in Bull Street, Birmingham in 1824
Five years later the factory, later named Bournville, opened four miles outside the city centre
In 1905 the firm launched its Dairy Milk bar
By 1930 Cadbury had become the 24th largest manufacturing firm in Britain
The company merged with drinks firm Schweppes in 1969
In 2010 a hostile takeover by Kraft was accepted by shareholders
---