Dudley hospitals trust announces up to 400 cuts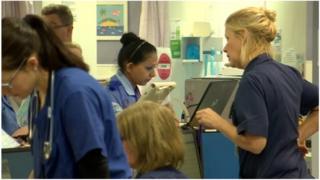 Up to 400 jobs are to be lost at a West Midlands hospital over the next two years in a bid to save £14m.
The Dudley Group of Hospitals said the jobs - all non-clinical posts - would help it "achieve financial stability".
The trust said it was currently overspending and predicts it will have a £7m deficit by the end of March.
Unions said the job losses were particularly depressing when staff were working so hard to cope with winter pressures.
'At risk'
The trust, which includes Russells Hall Hospital in Dudley, said the job losses would be phased, adding that it planned to seek voluntary redundancies initially.
"Depending on the savings made during the voluntary process, we will then seek further compulsory redundancies," it said in a statement.
"We are required to maintain financial balance to enable us to invest in services, equipment and facilities.
"If we are not able to deliver this, the future of the trust for the people of Dudley is at risk."
The trust says ward-based and community nursing and most midwifery posts will not be included in the job cuts.
"Our medical workforce is subject to a separate review looking at productivity and future planning," said a representative.
"I would like to reiterate how hard we have worked to avoid this situation."
Tracy Wood from Unison said clinical staff including theatre workers, radiographers and phlebotomists could be eligible.
She described the news as "depressing".