Fox apology for Birmingham 'Muslim-only city' claim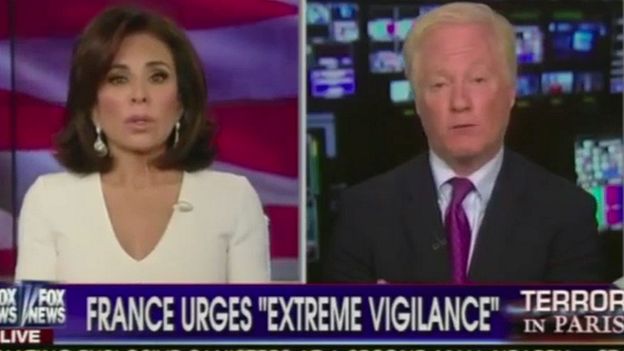 US Broadcaster Fox News has issued an on-air apology for televising a claim that Birmingham is a "Muslim-only city" where non-Muslims "don't go".
Steven Emerson, an American terrorism commentator, made the claims as he spoke to the channel about the terror attacks in France last week.
Mr Emerson retracted his claims after being contacted by media outlets.
On Saturday Fox said it "deeply regrets" the errors and apologised to the people of Birmingham.
Issuing the apology presenter Jeanine Pirro, who was interviewing Mr Emerson when he made the claims, said a guest had made "a series of factual errors that we wrongly let stand unchallenged and uncorrected."
"The guest asserted that the city of Birmingham, England, is totally Muslim and that it is a place where non-Muslims don't go," she said.
She went on to say census data from 2011 indicated 22% of the population of Birmingham identified themselves as Muslim.
"We could find nothing that indicated Birmingham is a so-called no-go zone.
"We deeply regret these errors and apologise to the people of Birmingham, our viewers and all who have been offended."
Mr Emerson's comments led to a Twitter backlash with the hashtag Fox News Facts trending with people inventing humorous "facts".
Related Internet Links
The BBC is not responsible for the content of external sites.