Sutton Coldfield rail crash memorial call 60 years on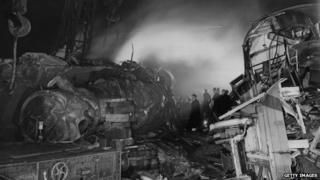 A memorial to the 17 people who died in a train crash 60 years ago should be installed at the station where it happened, campaigners have said.
An express train travelling from York to Bristol derailed and overturned at Sutton Coldfield station in the West Midlands on 23 January 1955.
John Moore, who was then an 18-year-old locomotive fireman, described the scene as "awful and unforgettable".
He has joined calls for a plaque to be installed at the station.
The train carrying 300 passengers had been diverted from its usual route through Tamworth because of maintenance work.
The driver, who was unfamiliar with the track, was travelling at twice the speed limit when the crash happened.
As well as the 17 who were killed, 23 were injured according to the Railways Archive.
'Piles of carriages'
Mr Moore, who helped clear the wreckage of the disaster the following morning, said: "The coach had tipped over here, there and everywhere.
"It was unbelievable. There was a pile of carriages all the way along. It had ripped through the station.
"When you saw the carnage it hit you like a brick wall. I will never forget."
Mr Moore said he was upset there was no ceremony held on the 50th anniversary of the crash, and now - 10 years later - it is "high time" to have one.
Birmingham city councillor for the Sutton Trinity ward, David Pears, has said he agreed it was important the "tragic event" was commemorated, but he wanted to gauge public opinion about the type of memorial.
Some people have expressed concerns a plaque in the station might discourage the use of the rail network.
A spokesman for Network Rail, which owns the station but leases it to operator London Midland, said: "We would be happy to work with London Midland and the local community regarding a plaque at Sutton Coldfield station to mark the tragedy and would encourage those who are interested to contact either organisation."