Birmingham City Council election overhaul ordered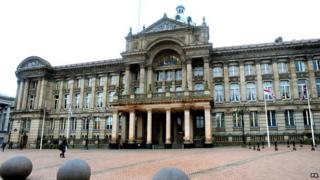 Birmingham City Council has been ordered to overhaul its election system in a bid to tackle "deep-rooted" issues.
Local Government Secretary Eric Pickles ordered the authority to implement whole-council elections by 2017.
The move was one of the recommendations made in a report by Sir Bob Kerslake, published last month.
Council leader Sir Albert Bore said preliminary work was "already well under way".
In his report, Sir Bob concluded the council's current election system, where a third of councillors are voted in each year, had not helped "strategic decisions".
Under the new set-up, the entire council would be up for re-election every four years.
Mr Pickles also announced the appointment of an independent improvement panel, another measure recommended in the Kerslake review.
It will be headed by John Crabtree OBE, former president of the Birmingham Chamber of Commerce.
Mr Pickles said the "serious" problems found by Sir Bob prevented Birmingham from fulfilling its potential.
"It is essential now that the city council makes rapid progress if it is to serve the people and businesses of Birmingham as it should," he said.
Former Youth Justice Board chief Frances Done, Leeds City Council leader Keith Wakefield, and Cheshire West and Chester Council chief executive Steve Robinson will also sit on the panel.
Sir Albert said he welcomed the appointments.