Sir Jack Hayward: Wolverhampton says goodbye to 'one of a kind'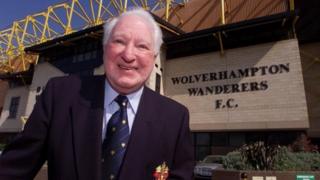 As Wolverhampton bids farewell to legendary football club owner Sir Jack Hayward, friends and colleagues pay tribute to "one of a kind".
"I don't think we'll ever see his like again," said Wolves chief executive Jez Moxey. "He was such a fantastic friend to Wolves, to the city, to the UK.
"This is not about football, this is about a great person, a great philanthropist and a great supporter of the city of Wolverhampton."
Sir Jack's love affair with Wolves began as a child. Born half a mile from the West Midlands club's Molineux ground, Mr Moxey said he used to "crawl under the turnstiles" as a boy to watch the team play.
Building on the family's fortune in engineering, he became a successful businessman.
But his decision to buy Wolverhampton Wanderers in 1990 was an "emotional not a commercial one", according to his great friend, the former cricketer Rachael Heyhoe Flint.
"In 1982 when it went into administration, it was a very, very hard time for the club," she said.
Before Sir Jack took over, the club were languishing in the then fourth division.
After turning a run-down Molineux into a modern all-seater stadium he set his sights on joining the Premier League, a feat the club achieved in 2003.
"It wasn't that he thought himself as generous, but he desperately wanted to see his club survive," Heyhoe Flint said.
"He was a fan first. Over the last 25 years, if he wasn't at a match, I'd have to phone him after every game at Molineux to tell him how the team got on.
"He'd want to know everything, what the crowd was like, were there any yellow cards or red cards, how the referee got on.
"He thought of himself as a custodian, rather than an owner.
"He said to his great friend [the former Wolves and England captain] Billy Wright: 'I'll only buy the club if you join me on the board'. And he did."
Sir Jack is believed to have spent about £70m on Wolves during his ownership.
In 2007, he sold the club for just £10, albeit with a guarantee that new owner Steve Morgan would invest £30m.
"Most people these days coming into football are looking to recoup some of their investment down the line," said former Wolves reporter David Instone.
"He was prepared to lose it. His bit of mischief at the end was he decided to sell it for £10. He was going to give it away, but he framed the £10 note and put it on the wall as a souvenir.
"In those days, there were still local butchers, bakers and candlestick makers on club boards, but he was a colossus.
"I suppose the nearest comparison was Jack Walker at Blackburn."
In 1990 Sir Jack bought Wolverhampton Wanderers for £2m
Over the next 17 years he put in about £70m of his own money
The club was promoted to the Premier League in 2003, but relegated just a year later
In 2007, he sold the club to Steve Morgan for £10
Sir Jack remained life president of the club until his death
Albert Bates, chairman of the supporters trust, described Sir Jack Hayward as Wolves' "greatest fan," whose "heart and soul" was in the club and "the city as a whole".
Former player Steve Bull said he was "Wolverhampton through and through".
"He was so humble. He'd come on the coach with us and he'd say 'well done', or 'we'll get them next time'."
Wolves, however, was not the only cause to benefit from Sir Jack's generosity. In 1986 he was knighted for his services to charity.
"He was a great patriot," Baroness Heyhoe Flint said. "You can tell from his donations why they called him Union Jack Hayward."
He helped rescue Brunel's ship ss Great Britain, paying for it to be towed from the Falkland Islands to Bristol, as well as helping the National Trust buy Lundy Island, off the north Devon coast.
Sir Jack also sponsored the first women's cricket world cup in 1973, a full two years before the men's equivalent was held.
"He always said he did it because he loved women and he loved cricket," Heyhoe Flint said.
Now, thousands of people are expected to line the route of his funeral procession to say goodbye to the man who many credit with saving their football club.