Birmingham New Street station 'needle-stab' man sought by police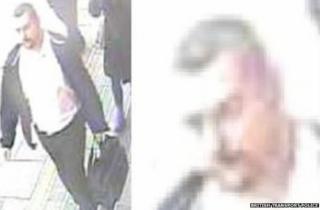 A man who is believed to have stabbed a woman with a needle outside Birmingham New Street station is being sought by police.
A CCTV image of a man officers said might have "important information" has been released.
The 22-year-old victim had just left the station when a man walked past, stabbing her arm in Stephenson Street.
She was left with a puncture wound following the incident at about 08:30 GMT on Christmas Eve.
She was stabbed "with what appeared to be a needle", British Transport Police (BTP) said.
PC Don Whyte said immediately after the attack the assailant "walked off hurriedly, leaving his victim with a small puncture wound".
He said: "Understandably, the woman was extremely distressed by this incident."