Birmingham police officer sentenced for misconduct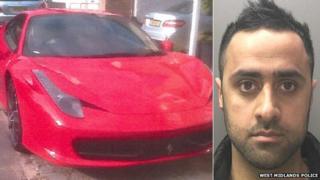 A West Midlands Police officer has been sentenced to 20 months in prison for misconduct in public office.
Osman Iqbal, 37, is already serving a seven-year term for running a brothel, money laundering and possessing Class A drugs with intent to supply.
The misconduct charge relates to his attempts to access restricted information from a police intelligence database on behalf of a friend.
Two other men, Nahiem Ajmal and Sajad Khan, were jailed for six months each.
Warwick Crown Court heard Iqbal, a PC based in Birmingham, was asked by Ajmal, a religious leader in the city, to obtain information for Khan.
Extravagant lifestyle
Iqbal's misconduct was discovered when he was being investigated for his brothel-running and money-laundering activities.
The monitoring of his computer use in that inquiry revealed he had also tried to get confidential information from police records.
West Midlands Police's counter-corruption unit began looking into his behaviour when colleagues noticed he was driving to work in a Ferrari, with no obvious way of funding an extravagant lifestyle.
Officers discovered Iqbal, from Ward End, Birmingham, had bank accounts for two non-existent businesses that were being used to launder "hundreds of thousands of pounds" from brothels in the Covent Garden and Marylebone areas of London.
He pleaded guilty in January to three counts of misconduct in public office.
Ajmal, 35, from Bucklands Lane in Hodge Hill, and Khan, also 35, from Lodge Road in Hockley, were convicted of the same offences.