Birmingham City Council objects to free school plans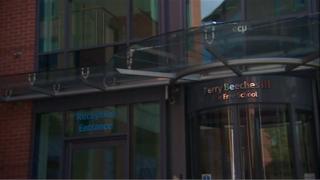 A council has formally objected to plans by a highly-rated city academy to run a free school in Birmingham.
Perry Beeches Academy Trust, which is ranked "outstanding" by Ofsted, planned to open the £20m school, named Perry Beeches V, in Small Heath to provide primary and secondary places.
The Department for Education (DfE) has given its backing to the plans.
However, Birmingham City Council said no "proper discussion" over the proposals had taken place.
'Not the place'
Perry Beeches has already opened a number of schools in the city. The schools are not run by local authorities.
The government said Perry Beeches V would give parents additional choice.
In a statement, the DfE said: "The school is on course to open in September 2015. We have kept the council and the trust informed throughout the process."
But the council's cabinet has objected to the plans, saying they would "detrimentally affect the education of the majority of children in the area".
It said the DfE's decision to locate the new school in Small Heath was "last-minute" and there had been no discussion on "the needs of Birmingham's children for school places in the area".
The council said it wanted to use the site to relocate Al-Hijrah, the most over-subscribed school in the city.
Councillor Brigid Jones said: "Al-Hijrah gets great GCSE results and is incredibly popular, but the building is in an appalling state.
"We are really supportive of the Perry Beeches chain which provides outstanding provision in the city and we want to continue working with them.
"But new school places need to go where they are most needed and this is not the place."