HMP Oakwood bullying and use of force highlighted in report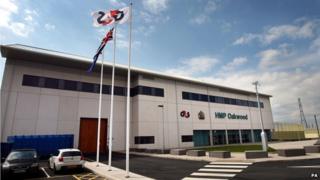 A prison where "drugs were easier to get than soap" continues to have problems with bullying, the use of force by staff and self harm, according to a new report.
HMP Oakwood, near Wolverhampton, was heavily criticised after a surprise inspection in 2013.
The new report, which followed a recent announced inspection, also said the jail made "significant improvements".
They included "a calmer atmosphere" and better staff-inmate relationships.
But HM Prison Inspectorate found the use of force by staff on prisoners was "almost double" that of similar prisons and there were high levels of bullying "often related to the availability of 'legal highs' such as Black Mamba, and associated debt".
Although no prisoner had killed himself at HMP Oakwood, inspectors found there was a high level of self-harm and support for those at risk of suicide "was not always adequate".
The jail has been troubled by prisoner unrest, including a seven-hour rooftop protest in November 2013 and a 10-hour disturbance in January 2014.
The new report concluded "real attention had been paid to recommendations and while much remained to do, excellent leadership by the director and hard work by all staff had delivered significant improvement".
"Inspectors were confident that progress was sustainable and there were credible plans for further improvements," it said.
HM Chief Inspector of Prisons Nick Hardwick said "there is more to do but the determined way the director and staff have made improvements following significant criticism should be acknowledged."
Michael Spurr, chief executive of the National Offender Management Service, said there were many challenges involved in opening any new prison and he was pleased with the improvement, but "there is still more work to do".
The UK's largest privately-run prison, HMP Oakwood opened in 2012 and houses about 1,600 Category C male prisoners.