Birmingham local channel Big Centre TV launches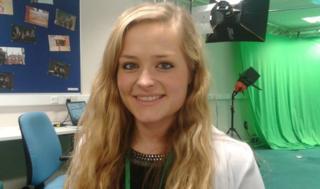 Birmingham's new local TV channel has been launched, three months after it was awarded the licence.
Big Centre TV appears on Freeview channel 8 after previous licence holder City TV went into administration before getting on air.
The new station, which has 22 full-time staff, said it had an annual break-even figure of about £400,000.
Channel director Chris Perry said "good logistical planning" was "the secret" to how it had gone on air "so quickly".
Crossroads reruns
In November regulator Ofcom said it had agreed to transfer the licence to Kaleidoscope TV Limited, which has named the channel Big Centre TV.
As part of the current licence fee settlement, the BBC agreed to contribute up to £25m for successful bidders to build the local TV network.
Mr Perry said he would be "delighted" if the station, which serves 2.1 million people in Birmingham and the Black Country, could attract 400,000 regular viewers.
Big Centre TV - which will also be on Virgin channel 159 by the end of March - is based in Walsall, at The Goldmine Centre, which the channel shares with performing arts school Walsall Studio School.
Programmes
Kaleidoscope's TV archives give it access to children's programmes such as Ivor the Engine and there will be reruns of Midlands soap Crossroads five days a week
The station's commitments include 41 hours of new local programmes a week
There will be an hour of news at midday and half an hour at 17:30 and 21:30 - produced by six video journalists in their early to mid 20s
Land Rovers Live features enthusiasts showing off their vehicles
DJ David Hamilton will present a chat show with showbusiness people
Local boxing, darts, ice hockey and bowls will be shown
The daily morning women's lifestyle show Cuppa TV was described by presenter Monica Price, a nutritionist, as "a bit like Loose Women and Lorraine but far better"
The new channel's biggest studio, seating an audience of 400, is also a performance space for the school, while the company otherwise has five much smaller rooms, including the news studio and another studio.
Asked about the speed of setting the station up, Mr Perry said the group used time "very constructively" after submitting its bid to Ofcom in August, building relationships and infrastructure.
He said: "We were investing really blind because we didn't know, I suppose, whether we were going to get the licence or not, but we felt we had enough confidence in the project.
"We thought that we probably wouldn't get any local advertising income at all for the first three months.... we'd have thought it was such a short start-up time.
"We already have six local adverts going out when we go on air.... so to me we are already improving our performance."
One of the channel's most recognisable faces is breakfast presenter Bob Hall, who has worked for ITV and Sky.
He said: "Everybody who's working here at the moment, they are not being paid huge amounts of money because there's no point in doing that, spending money we haven't got."
Summing up the ethos of Big Centre TV, Mr Perry said that one of its strengths would be its no-nonsense approach.
"We're not trying to make Downton Abbey," he said.
"We're not trying to be something we're not. We're trying to be very down to earth about what we do and be very good."